Balenciaga's $275 evergreen tree-shaped keychains have disappeared from the market. While the popular Paris-based brand seems to have been willing to quietly pull the pricey little leather accessories from its own e-commerce site and those of its stockists after they landed it at the center of an ugly copying lawsuit, Demna Gvasalia-helmed Balenciaga is fighting back.
On the heels of CAR-FRESHNER Corporation slapping Balenciaga's American arm with a lawsuit in October, claiming that the brand's keychains "are deliberately designed to replicate the [CAR-FRESHNER's trade dress-protected] Tree Design," right down the colorways, Balenciaga has formally responded to the allegations and is putting up a fight of its own by way of a long list of defenses, claims of wrongdoing on CAR-FRESHNER's part, and a counterclaim of its own.
In its answer, which was filed in December, Balenciaga denies nearly all of CAR FRESHNER's  claims – including that it "act[ed] willfully, in bad faith, or with malicious intent" in making and selling the lookalike keychains, and that it attempted to "mislead the public into believing that [its] products emanate from CAR-FRESHNER Corporation" – and sets forth 12 affirmative defenses.
To get the ball rolling, Balenciaga's counsel argues that CAR-FRESHNER is "not entitled to any [of the] relief [it] requested" in its complaint, including injunctive relief and monetary damages, because the Watertown, New York-based air freshener company has "suffered no recoverable damages," lacks trademark rights in the Tree Design and even if it does have rights, Balenciaga's keychain "does not constitute trademark use and/or is a fair use."
Specifically taking issue with CAR-FRESHNER's asserted trade dress rights, which are the basis of its lawsuit, Balenciaga claims that the tree-shaped air freshener is "generic." In other words, the design does not serve to identify the source of the product, and therefore, "does not function as a trademark." Beyond that, Balenciaga claims that the tree design is not protected by trademark law because it is functional, and functionality is something that trademark law does not protect. Its counsel points to a since-expired 1962 utility patent of CAR-FRESHER's as proof that the tree shape is, in fact, useful, as opposed to merely indicative of the CAR-FRESHNER brand.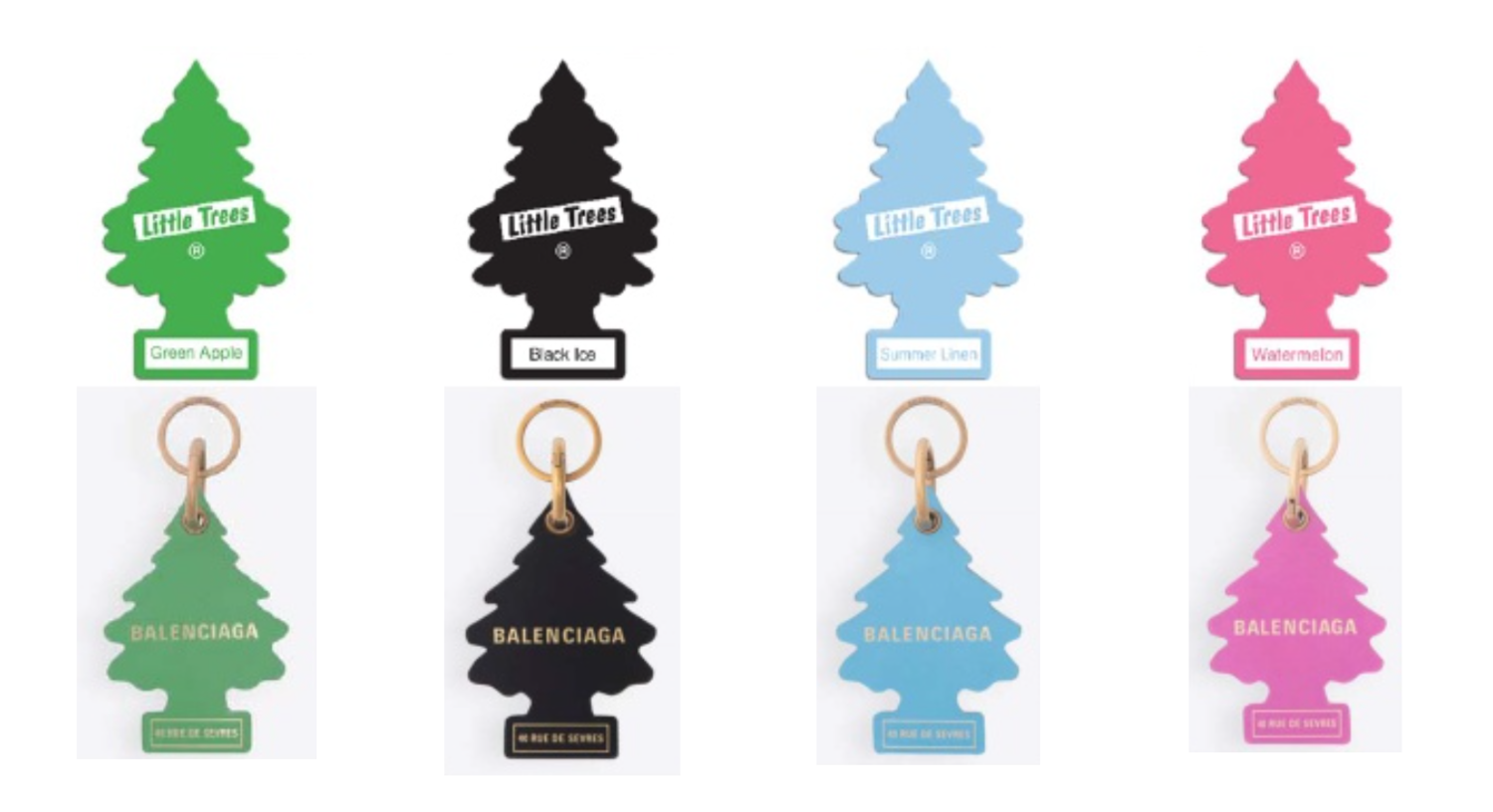 According to Balenciaga's filing, CAR-FRESHNER's 1962 utility patent (no.3,065,915)– which provided protection for the system for removing the car freshener from the packaging over a period of time to release the smell – "describes the utilitarian purposes of the tree shape [and thus, design] of [CAR-FRESHNER's] product." In accordance with this utility theory, which non-profit organization, Sun Cedar's counsel made when it was sued by CAR-FRESHNER in 2016, the branches hold the product's plastic cover in place. (CAR-FRESHNER and Sun Cedar seem to have managed to settle their case this summer in light of Sun Cedar's bankruptcy).
During the first week of use, for instance, the plastic packaging is pulled down to the first branch – which, in theory, makes it so that only the top of the tree is exposed and keeps the plastic from falling off. The plastic is moved further and further down the tree each week, using the branches as support. This specific usefulness should bar trademark protection for the tree design in Balenciaga's eyes.
In addition to a slew of other arguments from Balenciaga, its counsel argues that by claiming trade dress rights in the design of the tree, which was protected by the aforementioned patent until it expired, CAR-FRESHNER is engaging in "trademark misuse and an unlawful attempt to extend a patent monopoly," which is problematic.
And finally, Balenciaga's counsel claims that the high fashion brand should be let off the hook because there "is no likelihood of confusion in the marketplace," meaning that consumers are not likely to think there is any connection – even by way of a collaboration – between CAR-FRESHNER and Balenciaga's tree designs, an interesting claim given the marked rise of collaborations between fashion and non-fashion brands in recent years.
In terms of making a case of its own, Balenciaga has done just that. The brand has asked the court to declare that it is not infringing or diluting CAR-FRESHNER's trade dress rights, and that it is not engaging in unfair competition.
As for the strength of its arguments, Balenciaga's assertions that CAR-FRESHNER lacks trademark rights might not hold up. "The arge number of live federal trademarks registrations evoking tree imagery owned by Julius Sämann Ltd." – there are at least 11 different U.S. Patent and Trademark Office registrations for the tree design – "makes it a bit of a stretch for Balenciaga to argue that Julius Sämann Ltd. entirely lacks trademark rights in the design," says trademark attorney and former USPTO examiner Ed Timberlake.
Stay tuned.
* The case is CAR-FRESHNER Corporation and Julius Sämann Ltd., v. Balenciaga America, Inc., 1:18-cv-09629 (SDNY).