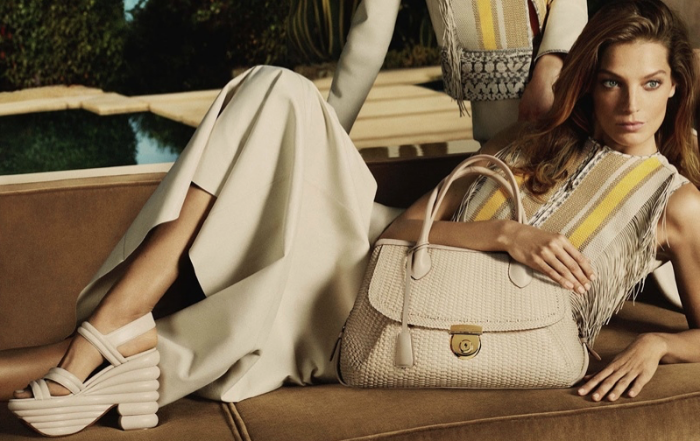 The Italian design house Salvatore Ferragamo has announced that it is upping its anti-counterfeiting efforts by placing microchips in its products. Ferragamo Group chairman, Ferruccio Ferragamo, spoke about the development, saying: "In 2015, we further expanded the number of e-commerce sites that we monitor. On the Chinese market, we have continued and ramped up our offline checks, targeting trade fairs and resellers in particular."
Beginning with its pre-fall 2014 collection, the company has been inserting microchips into the women's shoes, guaranteeing product authenticity, as well as the possibility to track products. The brand also extended the use of the microchip to men's shoes with the Cruise 2015 collection, while this has been inserted in women's small leather goods, luggage and bags with the fall 2015 collection.
While such a move certainly spark concerns regarding privacy violations, namely, in connection with the tracking element of the chips, it marks an important development in terms of the brand's fight against fakes. Per Footwear News, "A further success in Salvatore Ferragamo's measures against fakes was the seizure and destruction of more than 12,500 counterfeit products. The Chinese customs authorities confiscated more than 12,400 fake goods leaving the country and seized in excess of 34,000 counterfeit products in 2015. The estimated value of the goods exceeds $17 million. Belts accounted 60 percent of the seized products."
This is not the first brand to adopt the use of microchip transmitters. Dating back to 2003, Benetton began using microchip – a technological leap the Italian retailer said will help it track garments during its entire life it the brand's retail cycle – from factory to sales floor to cash register. At the time, Benetton said that the microchips were only being embedded in the labels of its high-end Sisley clothing in all of its stores, including about 140 U.S. locations.
Moreover, in the summer of 2010, Wal-Mart announced plans to roll out sophisticated electronic ID tags to track individual garments, the first step in a system that advocates say better controls inventory. Beginning in Agust 2010, the retailer placed removable "smart tags" on individual clothing items and accessories that can be read by a hand-held scanner. Wal-Mart workers will be able to quickly learn, for instance, which size of Wrangler jeans is missing, with the aim of ensuring shelves are optimally stocked and inventory tightly watched. If successful, the radio-frequency ID tags will be rolled out on other products at Wal-Mart's more than 3,750 U.S. stores.
Up until then, retailers including Wal-Mart primarily used RFID tags, which store unique numerical identification codes that can be scanned from a distance, to track pallets of merchandise traveling through their supply chains. Wal-Mart's broad adoption remains the largest in the world of retail.
Not surprisingly, such efforts have privacy advocates raising questions. While the tags can be removed from clothing and packages in some cases (likely not in terms of Ferragamo), they can't be turned off, and they are trackable. Some privacy advocates hypothesize that unscrupulous marketers or criminals will be able to drive by consumers' homes and scan their garbage to discover what they have recently bought.
There is also the worry that retailers will be able to scan customers who carry new types of personal ID cards as they walk through a store, without their knowledge. Several states, including Washington and New York, have begun issuing enhanced driver's licenses that contain radio-frequency tags with unique ID numbers, to make border crossings easier for frequent travelers. Some privacy advocates contend that retailers could theoretically scan people with such licenses as they make purchases, combine the info with their credit card data, and then know the person's identity the next time they stepped into the store.
Katherine Albrecht, founder of a group called Consumers Against Supermarket Privacy Invasion and Numbering and author of a book called "Spychips" that argues against RFID technology, told the Wall Street Journal in 2010: "There are two things you really don't want to tag, clothing and identity documents, and ironically that's where we are seeing adoption. The inventory guys may be in the dark about this, but there are a lot of corporate marketers who are interested in tracking people as they walk sales floors."