image: DMA
The rise of anonymous authors and social media accounts is at a high in the #MeToo era. Whether it be Moira Donegan, the woman behind the Shitty Media Men list, who has since outed herself as the creator, or the anonymous model who compiled a blacklist of names submitted to her of fashion photographers, stylists, designers, and casting directors that have allegedly acted in a "sexually inappropriate manner," the Internet is rife with activism-type efforts put forth under the guise of anonymity.
One such Instagram account, Diet Madison Avenue – which was devoted to exposing harassment in the advertising industry – is now at the center of a lawsuit. Ralph Watson, the former chief creative officer for Crispin Porter & Bogusky, filed suit in a California state court in May, alleging that Diet Madison Avenue erroneously labeled him an "unrepentant serial predator" who "targeted and groomed women," and encouraged his advertising agency employer to fire him without "provid[ing] even a scintilla of evidence or proof supporting any allegations of harassment or other 'predatory' misconduct.'"
Watson filed a separate employment-based lawsuit against Crispin Porter & Bogusky in federal court in Colorado, citing defamation, wrongful termination, and breach of contract, among other claims.
According to Watson's multi-million dollar suits, in February, just days after the posts appeared on Diet Madison Avenue's account, he was "unfairly dismissed" from his job and has been unable to find work since. Watson asserts that in addition to being dismissed from Crispin Porter due to the allegedly defamatory posts, he lost a "highly lucrative freelance engagement solely because of the damage to his reputation and/or the real fear of retaliation by [Diet Madison Avenue] or its supporters."
Still yet, Watson – who claims that "his life [has been] destroyed wholly on the basis of the defendants' patently false statements" – makes reference in his complaint to Instagram's privacy policy, which states the platform may access, preserve and share a user's information in response to a legal request or when Instagram believes that is necessary to detect, prevent and address fraud and other illegal activity.
Various courts in the United States have recognized that the right to speak – or write or post on Instagram, etc. – anonymously and/or by using a pseudonym is "protected by the First Amendment right to free speech." However, such protections, as noted by the Digital Media Law Project, "are subject to the rights of those harmed by unlawful anonymous speech – whether by defamation, misappropriation of trade secrets, or whatever else – [who] have a right to seek compensation for their injury."
With this in mind, late last month, Los Angeles Superior Court Judge Monica Bachner granted Watson's request for the right to "serve limited and specific business records' subpoenas to" Instagram and its parent company Facebook, as well as Gmail, in order to compel identifying information about the anonymous individuals behind Diet Madison Avenue by August 31 in order to specifically name them as individual defendants in the lawsuit.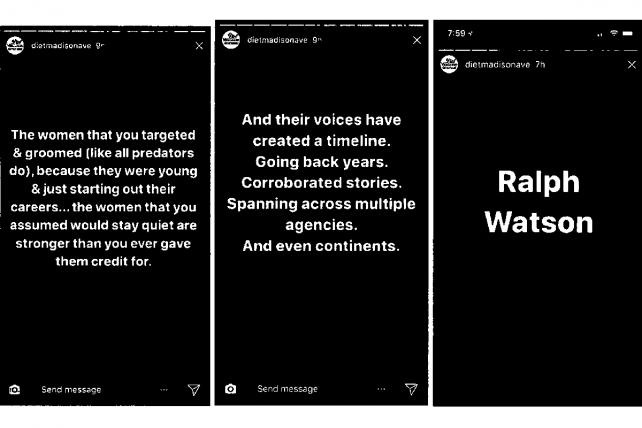 The operators of Diet Madison Avenue told AdAge in an Instagram message last week that "it will be fascinating to see how Instagram deals with this issue – and how they deal with users' privacy and freedom of speech on their platform."
While Instagram, Facebook, and Gmail could refuse to comply with the subpoenas, it seems an unlikely outcome. "The situation where Instagram would push back would be if the statements were not actually capable of being defamation," and instead, were statements of opinion, Nate Cardozo, a senior staff lawyer at the Electronic Frontier Foundation, told the New York Times. Cardozo notes, though, that the posts by Diet Madison Avenue "stated as fact" – and not opinion – that Mr. Watson was a predator who "targeted and groomed women," meaning that Instagram, and Diet Madison Avenue's operators, have very little room to argue in that regard.
What might be the more appropriate thing to watch for in regards to Instagram is how the platform will work to balance the operation of such activism-inspired accounts (at least some of which routinely employ tactics that could be described as bordering on cyber-bullying) with the rights of innocent individuals to avoid having their reputations tarnished if the allegations that are being posted by a growing number of these accounts are actually inaccurate.  
(As for whether any of the designers targeted by the unrelated Diet Prada account could bring merited claims of defamation (or even better, defamation per se), I'd be willing to bet yes, since erroneous claims of "copying" stand to (and may actually) injure the called out parties in a business capacity, including by way of lost sales or botched collaboration deals, for example, due to bad press).
* The case is Ralph M. Watson v. Diet Madison Avenue, BC707278 (Cal.Sup).