Tom Ford went viral on Twitter on Tuesday. It was not because he staged a highly-attended fashion show with the industry's biggest models on the runway. It wasn't because he has been named a the new president of fashion industry trade group, the Council of Fashion Designers of America (although that was reported last week and confirmed on Tuesday afternoon), and still yet, it was not because one of the most well-known celebrities in world stepped out in one of his pricey garments, even though that is a relatively regular occurrence.
No, the Los Angeles-based fashion designer and his eponymous label found themselves at the center of a politically-charged digital frenzy led largely by those on the far-right of the political spectrum after a user – @fras99 – posted a since-deleted tweet on Monday evening featuring a quote from the 57-year old designer, saying, "I have no interest in dressing a glorified escort who steals speeches and has bad taste in men."  By Tuesday morning, the quote-bearing tweet had been shared thousands of times and spawned countless other 140-character messages to the same tune.
The problem? Mr. Ford never said that. As spokesman for the designer said on Tuesday, "This is an absolutely fabricated and completely fake quote that has somehow gone viral. Mr. Ford did not make this statement; it is completely false."
In place of the deleted tweet, that same Twitter user has since posted a link to a 2016 paywall-protected article from the Washington Post, in which Ford made no such comment. Meanwhile, other Twitter users circulated a doctored Daily Mail headline, allegedly from December 2016, which includes the same claim.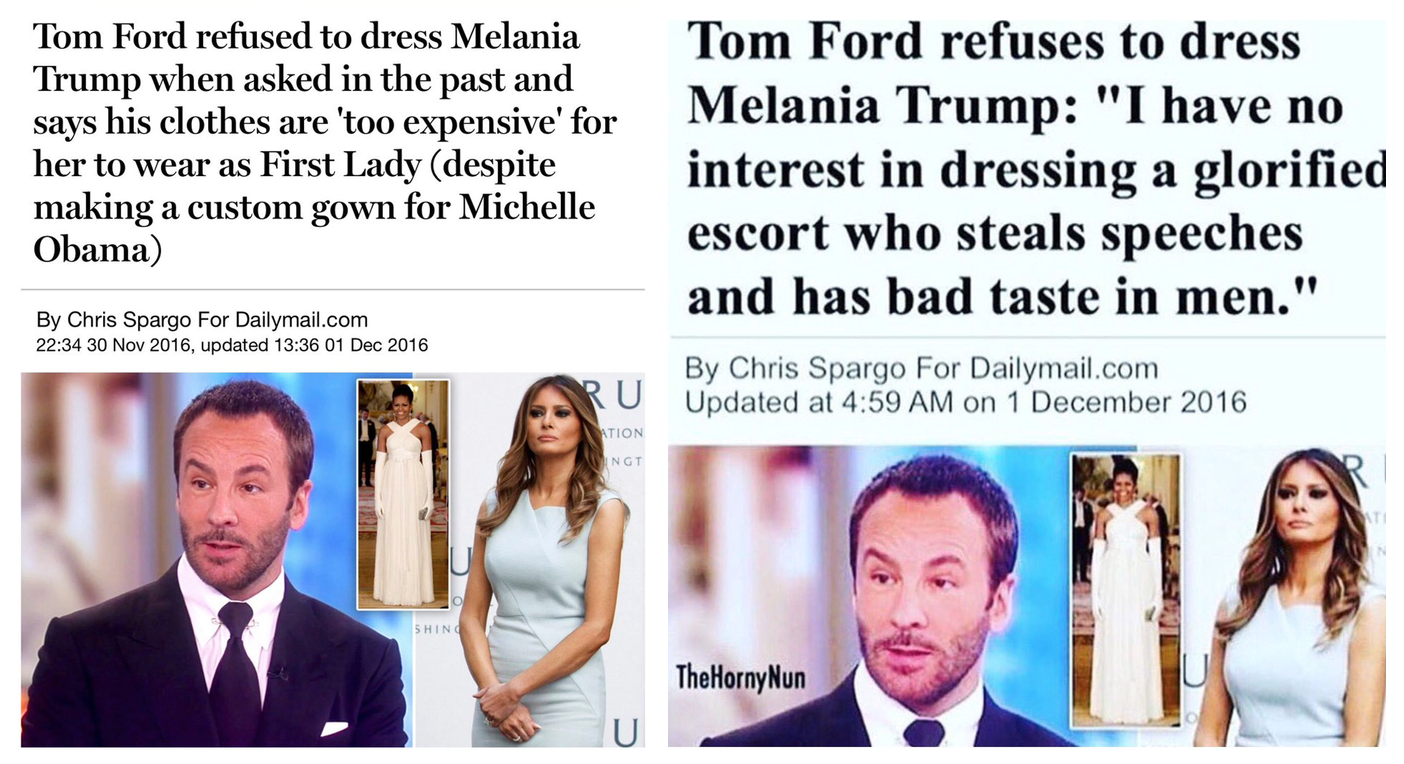 The real DailyMail article (left) & the doctored version (right)
In reality, Mr. Ford made headlines in late 2016 after "joining a handful of high-fashion folks who said they would not be associated with the incoming administration's fashion front," as the Washington Post reported at the time. Unsurprisingly, though, Ford's diplomatic reasoning for the decision did not involve a mention of "escorts," speech stealing, or "bad taste in men." Instead, Ford – who first made his name while thoroughly revamping a near-bankrupt Gucci in the 1990's – revealed that he had, in the past when asked, decline to dress Mrs. Trump. She is "not necessarily my image," he stated.
He also noted that "even had Hillary [Clinton] won, she shouldn't be wearing my clothes" either, suggesting that the price points of his collection are almost certainly too excessive for an individual holding political office. Ford's products range from sky-high heels that will set you back upwards of $1,000, sequined dresses that go for more than $5,000, and a crystal bralette with a TF label goes for $4,150.
Seemingly unbothered by the lack of substantiation for the quote attributed to Ford, the social media masses have taken not only to spreading iterations of the quote like wild fire, they have asserting statements vowing to boycott Ford and his products. Others have promised to burn the Tom Ford goods they already own.
Compared to widely-shared inaccurate social media allegations, such as those that some of the Stoneman Douglas High School students that spoke out after the shooting at the Parkland, Florida shooting in February 2018 were not actually students at the school, but instead, were actors paid to drum up support for gun control, or the sharing of erroneous identifications of the alleged suspects in the Boston Marathon bombing in 2013, the spread of fake fashion news is small change. Yet, it is still a clear demonstration of how swiftly and widely how inaccurate politically-motivated information can be shared on social media.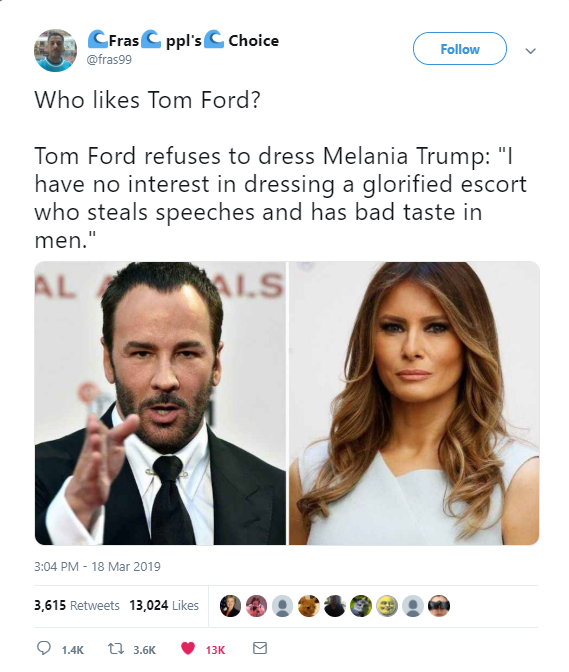 The inaccurate Tom Ford quote tweet falls neatly in line with the finding of a 2018 study from Science Magazine. In connection with "worldwide concern over false news and the possibility that it can influence political, economic, and social well-being," a sweeping report from the Washington, DC-based publication examined "all of the verified true, false, [and mixed (partially true, partially false)] news stories distributed on Twitter from 2006 to 2017," and found that "false news spreads more pervasively than the truth online" and  "the amount of false news online is clearly increasing."  
The study's authors, Soroush Vosoughi, Deb Roy, and Sinan Aral, who hail from the Massachusetts Institute of Technology, discovered that false information is shared "significantly farther, faster, deeper, and more broadly" that accurate reports, and noted that "the greater likelihood of people to retweet falsity more than the truth is what drives the spread of false news, despite network and individual factors that favor the truth."
The stats from the Science Mag report are striking. "False stories outperform the truth on every subject, including business, terrorism and war, science and technology, and entertainment." Tweets containing false information are "70 percent more likely to get retweeted than accurate news," and reach "1,500 people six times quicker, on average" than a  tweet containing verified information.
A particularly interesting element of the study debunked the myth that bots – accounts that communicate more or less autonomously on social media – are responsible for the lion's share of the dissemination of fake news. According to Vosoughi, Roy, and Aral, "Contrary to conventional wisdom, robots accelerated the spread of true and false news at the same rate," a fact that led the authors to conclude that "human behavior contributes more to the differential spread of falsity and truth than automated robots do."
"It is not just because of bots," says Mr. Vosoughi, who has studied the nature and dissemination of fake news since 2013. In fact, he says, "It might have something to do with human nature."
A subsequent study by the Knight Foundation found that "more than 80 percent" of Twitter accounts that were involved in spreading disinformation and falsehoods during the 2016 election campaign are still active on the platform, and that engagement linked to fake news on Twitter has actually been rising since the 2016 election. This situation, even if relatively mundane, seems to be proof of that.