Ariana Grande was sued this spring for posting two paparazzi photos of herself to her Instagram account without paying to license the photos and without seeking and receiving the photographer's permission to do so. That lawsuit, in which plaintiff Robert Barbera claimed copyright infringement and sought tens of thousands of dollars in damages, settled a couple of months later, with Grande seemingly paying – retroactively – to use the images. The peace between the pop star and the photographer did not last long, though.
In a new complaint, which was filed in a New York federal court on Monday, Barbera is suing Grande … again, asserting that the 26-year old singer and songwriter "willfully, intentionally, and purposefully, in disregard of and indifference to [his] rights" ran afoul of copyright law … again by posting a photo for which he is the copyright holder to her Instagram account without licensing it.
This time around, instead of using photos to promote the release of her "Sweetener" album (which is what led to the first case this spring), Barbera claims that Grande posted the photo at issue – one of her wearing one of her "Sweetener" sweatshirts while leaving her New York apartment in August 2018 – to her Instagram Story "to promote [her] brand and clothing," namely by including the caption, "My Merch Is So Cute and Comfy, Swipe Up To Get Da Look," as well as a live link to purchase the sweatshirt she was wearing.
As the individual behind the creation of the photo at issue, Barbera is the exclusive holder of the copyright in the photo, regardless of whether the subject consented to the taking of such images or not. (More about that here). When another individual or entity – regardless of who they are – makes unauthorized use of those photos, that gives rise to a claim of infringement.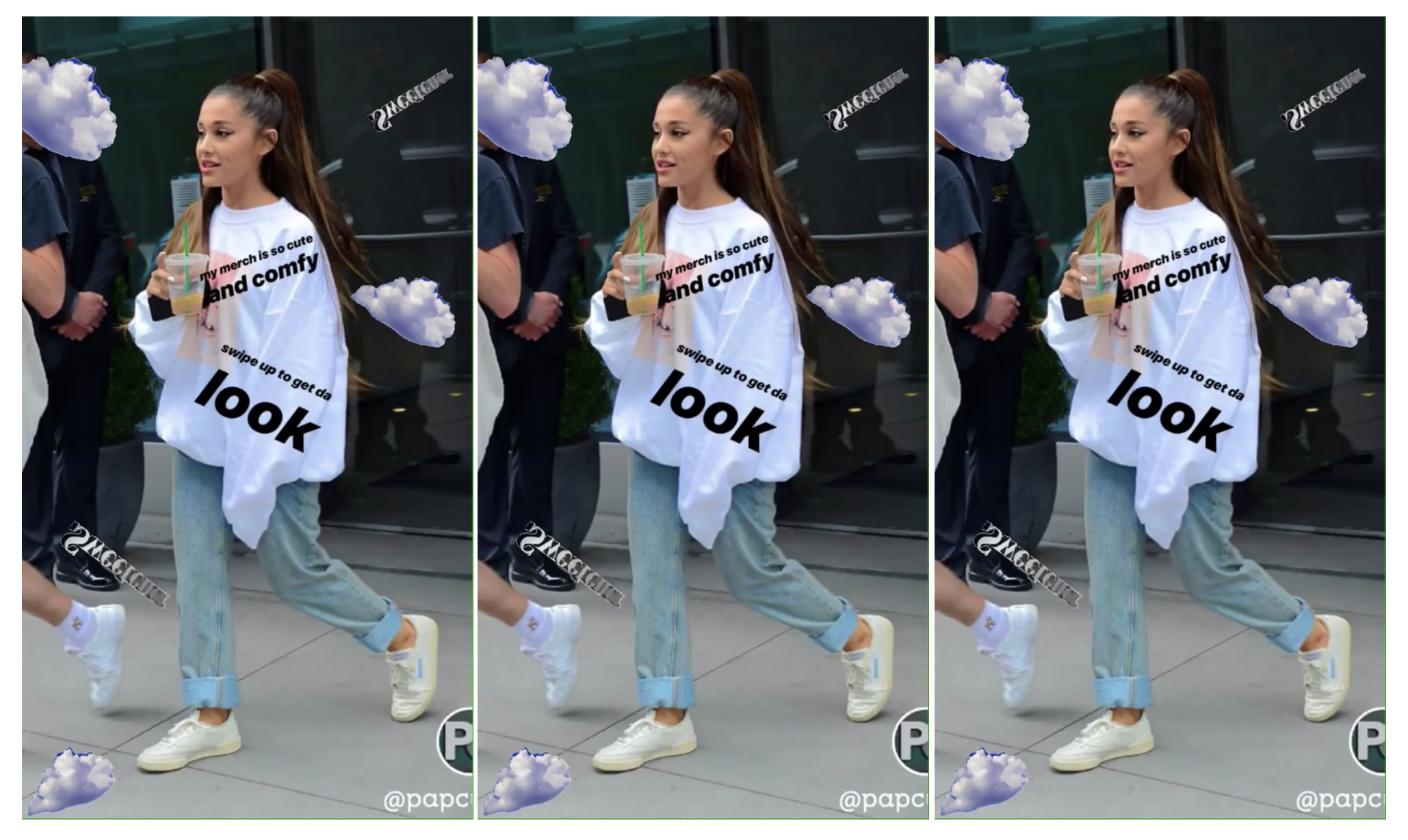 the image at issue
The fact that Grande posted the image in order to promote the sale of her merch is significant, as that likely makes the use commercial in nature (as opposed to educational or otherwise protected by the First Amendment for being purely newsworthy), and thus, less likely to be considered fair use. (That is assuming, of course, that the case does not settle in the near future just like the one before it.)
Barbera – who has also sued Justin Bieber, Alexander Wang, Christian Siriano, CBS, and Versace, among others in similar suits – goes on to argue that Grande is "not, and [has] never been, licensed or otherwise authorized to reproduce, publicly display, distribute and/or use the photograph," and yet, she posted it anyway in furtherance of what he says appears to be a growing pattern of infringement. Not the first time around, Barbera states that Grande has "a history of using [his] photographs without permission," noting that "in 2019, [he] sued [Grande] for using other photographs on her Instagram page without permission."
As such, Barbera is seeking a monetary sum of his "actual damages and Grande's profits, gains or advantages of any kind attributable to [her] infringement of his photo," punitive damages, and attorney's fees and costs.
*The case is Robert Barbera v. Ariana Grande and Grandari, Inc., 1:19-cv-3620 (SDNY).