Move over Alexander Wang, Uniqlo has a handful of new collaborators, which are expected to be the biggest that it has enlisted to date. The Japanese clothing chain announced this week that it is partnering with Korean pop mega-stars BTS for a limited-edition collection os unisex t-shirts centering on the band's BT21 designs, i.e., animated versions of the seven members of BTS – designed by the members of BTS. As of June 21, the collection will hit select Uniqlo stores and the retailer's e-commerce site, undoubtedly to extreme demand.
While Tadashi Yanai-owned Uniqlo has experienced success with collaborations to date, including with current partner Alexander Wang, as well as with past collaborators, such as Jil Sander, Tomas Maier, Carine Roitfeld, KAWS, J.W. Anderson, and Christophe Lemaire, this one is likely to be a chart-topper due to the sheer popularity of and marketing power commanded by BTS.
Following in the footsteps of K-pop stars, such as G-Dragon and CL, BTS – which got its start in 2013 and consists of members V, J-Hope, RM, Jin, Jimin, Jungkook, and Suga – has found immense fame not just in their native Korea but in the West, as well, making it one of the most popular and successful musical acts worldwide.
Its 2018 album Love Yourself: Tear, for instance, debuted at number one on the U.S. Billboard 200 chart, making it "the first Korean album to top the U.S. albums chart" … ever, and has since landed the title of "the highest-charting album by an Asian musical act in the U.S. ever." Still yet, in April, BTS became the first Asian band to surpass 5 billion streams on Spotify, while also being named on Time Magazine's 100's most influential list for 2019, and nabbing the title of being the first-ever Korean pop band to perform on Saturday Night Live, and ahead of sold out shows in their global Love Yourself: Speak Yourself tour.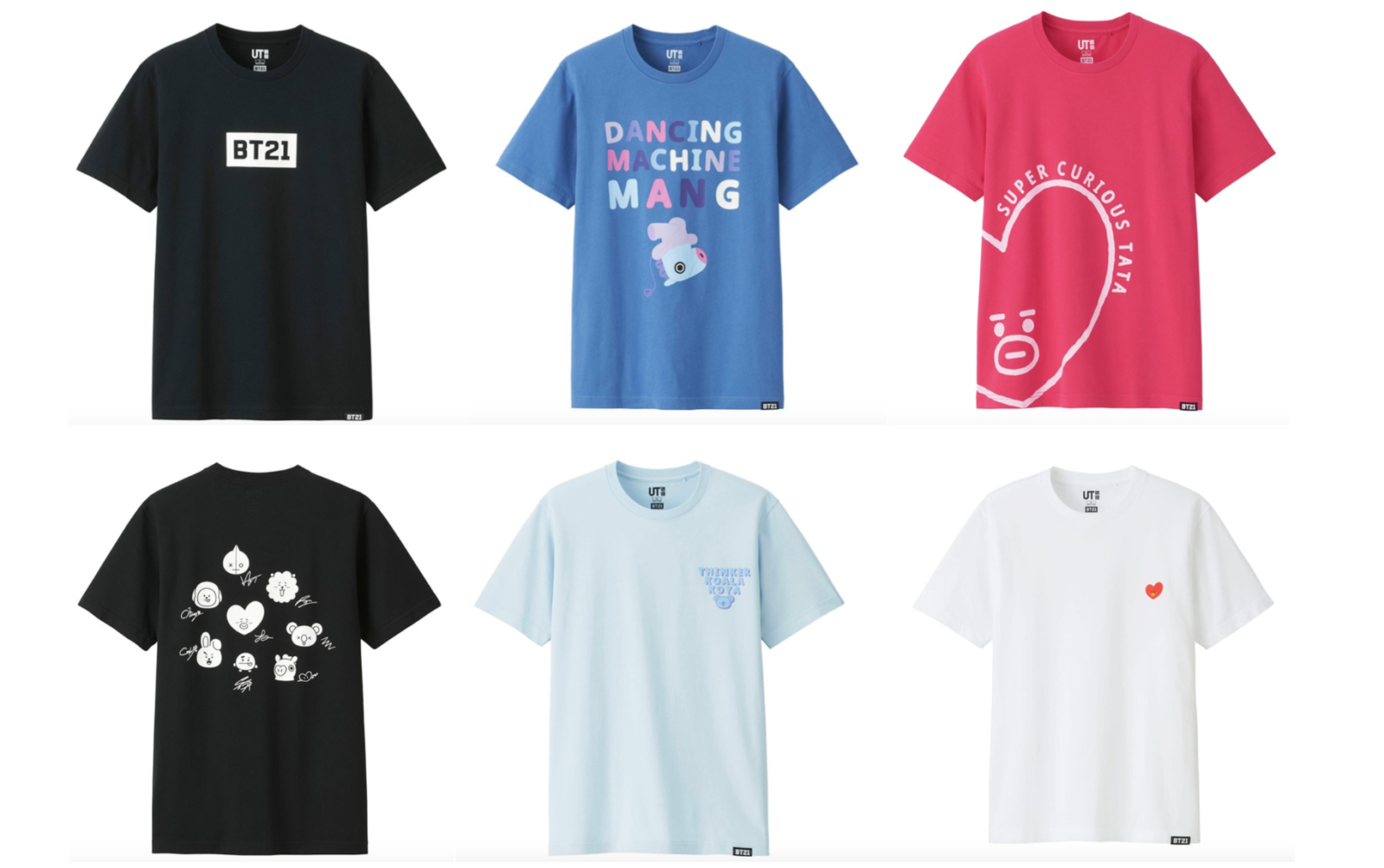 image: Uniqlo x BTS
Aside from the obvious benefits that come with partnering with BTS, in particular, given the band's long list of accomplishments, the fashion industry's occupants generally have been eager to position themselves with East Asian influencers and super-stars as a way to more directly cater to some of the largest luxury goods market in the world, whether that be China, Japan, or even Korea, where consumers are demanding that advertising be catered more specifically to them and not merely an extension of brands' Western-focused efforts.
"With the digital era, if we want to access locals very quickly, we need to talk to them with people who are appealing to them," Julie Coine-Ollivier, president of LVMH Fragrance Brands Japan, told Nikkei, which noted that while luxury brands are "supervising marketing from their Western headquarters to carefully control their image … local approaches are taking on greater importance in order to stand out and attract new followers in the vast online marketplace."
This has seen fashion's top brands looking East not only for revenue growth but more specifically, for the proper ammunition to appeal to this powerful region, which has included enlisting more localized celebrities and influencers.  With that in mind, brands like Chanel and Fendi regularly tapped K-Pop stars to appear in their campaigns, particularly during the tenure of the late creative figurehead Karl Lagerfeld. Meanwhile, brands ranging from Burberry to Tommy Hilfiger have been luring some of the music genre's biggest stars to the front rows of their runway shows in hopes of attracting the attention of luxury-hungry young consumers.
Fashion's continued obsession with these young talents – both for their music and their celebrated sense of style –  sheds light on even bigger takeaway: Korea is increasingly the home of influence that fashion brands simply cannot afford to ignore.