Hailey Bieber and her brand-new beauty brand Rhode have landed on the receiving end of a trademark infringement lawsuit. According to the complaint that it filed in a New York federal court on Tuesday, unaffiliated clothing and lifestyle brand Rhode claims that Bieber and her companies RHODEDEODATO CORP. and HRBEAUTY, LLC d/b/a RHODE (the "defendants") are on the hook for trademark infringement and unfair competition under federal and New York state law for allegedly co-opting the Rhode name, which plaintiff Rhode-NYC, LLC says that it first adopted eight years ago and has been using consistently ever since.
According to the newly-filed lawsuit, Rhode alleges that it began selling luxury garments under the Rhode name back in 2014 and since then, co-founders Purna Khatau and Phoebe Vickers and their brand have garnered media attention from the likes of Vogue; had their wares carried by retailers like Net-a-Porter, Neiman Marcus, Shopbop, and Saks Fifth Avenue, among others; and garnered fans, such as Beyoncé, Tracee Ellis Ross, and Lupita Nyong'o, while building a business that is on track to generate "sales of approximately $14.5 million for the year 2022 and $20 million in 2023."
All the while, New York-based Rhode declares in the 47-page filing that it has amassed trademark rights in – and registrations for – its name for use on apparel and accessories, among other things, with plans to expand into additional categories of goods/services in furtherance of its founders' aim to build out a fully-fledged lifestyle brand.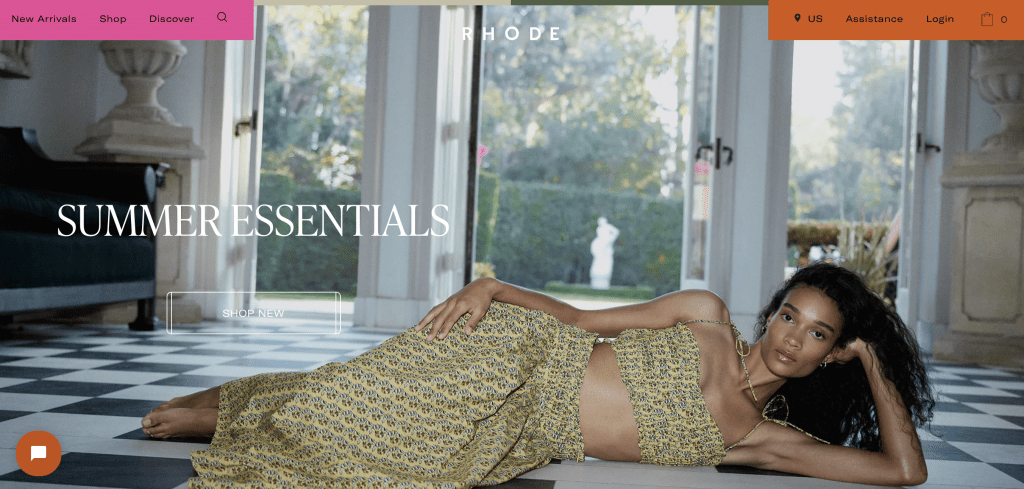 Against that background, Rhode claims that on June 15, model-slash-budding beauty entrepreneur Hailey Bieber launched a skincare brand of the same name, a nod to her middle name. (It is worth noting that the tenets of trademark law do not/cannot prohibit individuals from using their names in a personal, non-commercial capacity, but people do not have an unfettered right to use their personal names for commercial purposes, as the court confirmed here and in more that one case involving members of the Gucci family.)
Not a coincidence, Rhode argues that "there is no doubt that Ms. Bieber and her companies know of [its] superior rights," as they "previously sought to acquire the RHODE mark, appreciating that the brands could not coexist without confusion." The plaintiff asserts that in November 2018, on the heels of the defendants filing a trademark application with the U.S. Patent and Trademark Office ("USPTO") for Rhode for use on clothing, "counsel for Ms. Bieber contacted counsel for Rhode … and offered to buy Rhode's trademark registration," having "clearly recogniz[ed] Rhode's prior rights to the use of RHODE."
"Given the sacrifices they had made to build the brand, Khatau and Vickers refused [the offer from Bieber]," the complaint states, noting that "the RHODE brand is their most important asset."
(The defendants' 2018 application for registration for a stylized depiction of the word "Rhode" for use on apparel was abandoned in 2019. However, counsel for the defendants filed an intent-to-use application for "Hailey Rhode" for use on clothing in 2019 with the USPTO, and two intent-to-use trademark applications, one for a plain RHODE word mark and one for a stylized depiction of the word "Rhode" in February and December 2020, respectively, for use on skincare products, fragrances, etc. Rhode did not oppose any of those applications, and while all three were given a green-light by the USPTO by way of Notices of Allowance, they are still pending before the USPTO in lieu of statements of use being filed.)

While Rhode claims that it maintains superior rights in the brand name and "has achieved great success in the competitive and challenging fashion industry and has established a strong brand identity, there is no question that Ms. Bieber's worldwide fame affords her a more substantial platform from which to [promote and] sell products." More specifically, Rhode asserts that "Bieber's new, trademark-infringing brand will quickly swamp [its] market presence, confuse the marketplace, and ultimately, destroy the goodwill and reputation of the RHODE brand." In the wake of the launch of the defendants' brand earlier this month, Rhode alleges that it has taken "an immediate hit," with search engine query results for the word "rhode" being dominated by the defendants' brand instead of its own. (Awareness for the newer Rhode brand has been boosted by Ms. Bieber's significant social media following, the plaintiff argues, as well as that of "Ms. Bieber's husband, Justin Bieber, has promoted 'rhode' to his 243 million Instagram followers.")
In addition to potentially confusing consumers as to the source of Rhode-branded goods, the potential for harm that comes from Bieber's new brand is significant, per Rhode, which argues that such reverse confusion is "likely to cause Rhode to lose control over its goodwill and reputation, which it has spent nearly a decade building," and "more than $1 million on brand advertisement" in 2021, alone.
Beyond that, should Bieber be permitted to operate in a similar (of not the same) market as Rhode using an identical name, her brand stands to "erode the value of [the original Rhode brand] as a whole," Rhode argues, as "no reasonable buyer or investor is likely to purchase or back a brand that's entire brand identity has been eclipsed by a celebrity brand with an identical name." It is also "possible," Rhode claims that "stores and sellers [will] decide it is too confusing to carry both brands, [and] most likely, they would excise [Rhode] in favor of the defendants given Ms. Bieber's celebrity status," thereby, leading to lost opportunities/revenue for Rhode. At the same time, Bieber and co.'s use of the "Rhode" mark will "likely make it much more difficult, if not impossible, for Rhode to partner and/or collaborate with other brands in the future" for similar reasons.
Finally, Rhode argues that the potential for harm is heightened by the fact that "Ms. Bieber's foray into the world of celebrity-sponsored product empires is very unlikely to stay within the confines of the beauty industry." Rhode points to a number of the defendants' recent trademark applications, "which are outside the cosmetics space," and which it claims "indicate Ms. Bieber's plans to expand beyond cosmetics into apparel and other fashion-related goods." In fact, "Ms. Bieber has already indicated that 'clothes will come,'" Rhode asserts, claiming that "if the defendants "are permitted to use 'rhode,' [it] will be unable to enter the beauty and skincare market."
Moreover, such an expansion into clothing by Bieber "is expected and anticipated … by consumers," Rhode contends. Not only are clothing and accessories likely within the zone of natural expansion for beauty and skincare products, particularly, nowadays when most companies have merch (much more about there here), Rhode argues that "other celebrities have done the same," and turned skincare and/or cosmetics ranges into much larger ventures. For instance, Rhode notes that Gwyneth Paltrow's brand, GOOP, "markets and sells lifestyle products including, among other things, both fashion and skincare," and the same goes for Kim Kardashian, Kendall and Kylie Jenner, and Rihanna, the latter of whom "sells cosmetics under the brand name Fenty and undergarments under the label Savage x Fenty."
With the foregoing in mind, Rhode sets out claims of trademark infringement and unfair competition in the newly-filed lawsuit and is seeking injunctive relief to bar the defendants using the Rhode "trade name or domain name either standing alone or as part of any other name or mark," among other things, and to force them to account for and destroy any marketing materials and/or products bearing the Rhode mark. Rhode is also seeking monetary damages to be determined at trial.
Orrick's Lisa Simpson, who is lead litigation counsel for Rhode, cited language in the complaint, asserting on Tuesday, "This is a textbook case of reverse confusion, in which a massive junior trademark user threatens to trample a smaller senior user's market. The magnitude of Bieber's following and the virality of her marketing will cause immediate, ongoing and irreparable harm to the RHODE brand. And the hardships and public interest weigh overwhelmingly in favor of protecting the nine-year investment of two upstart entrepreneurs over the latest mega-venture by a mega-star."
A rep for the defendants was not immediately available for comment.
The case is Rhode-NYC, LLC v. Rhodedeodato Corp. et al, 1:22-cv-05185 (SDNY).