When is a lace-up combat boot too similar to a Dr. Martens boot? Dr. Martens' iconic lace-up boots have been kicking around since the 1940's, when a German doctor named Klaus Maertens developed the design. The heavy eight-eyelet boots, with their thick sole, tough exterior, and yellow stitching, swiftly became an integral part of the youth culture beginning in the 1950s and the music scene, as well. Since then, countless lookalike versions have hit the market – whether they be from notorious copycat Steve Madden or Paris-based fashion house Givenchy, the latter of which showed Martens-inspired footwear as part of its Spring/Summer 2016 in June 2015.
The influx of copycat boots has spurred UK-headquartered Dr. Martens into a flurry of legal action, in an effort to enforce its federally-registered rights in the brand-identifying appearance – i.e., trade dress – of its well-known boots, namely, the "two-toned grooved sole edge, the distinctive DMS sole pattern, yellow stitching in the welt area of the sole, and a black fabric heel loop."
In the latest of such suits, Dr. Martens' intellectual property holding company Airwair International has filed a multi-million dollar trade dress infringement and unfair competition action against e-commerce giant Yoox Net-a-Porter, alleging that its Yoox site is selling an array of boots by third party brands that "unlawfully copy and use the Dr. Martens trade dress and distinctive features of Dr. Martens footwear … in an effort to "capitalize on the reputation and fame of the Dr. Martens brand."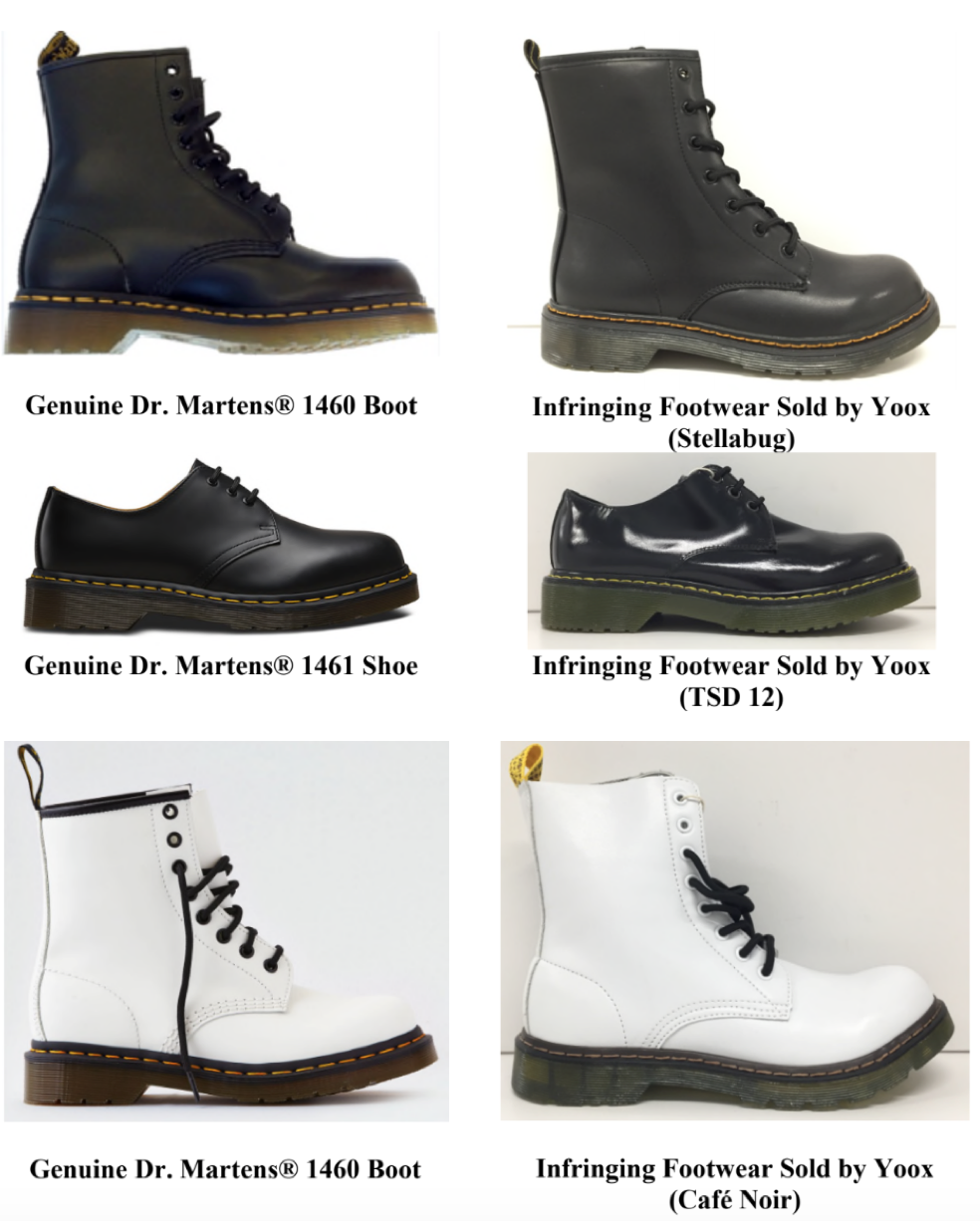 According to Dr. Martens suit, which was filed this week in a California federal court, "The use of Dr. Martens trade dress on the infringing footwear suggests a sponsorship and affiliation that does not exist … [since] Yoox has no right to use the Dr. Martens trade dress." From a trade dress perspective, the case will turn on whether the allegedly infringing products are likely to confuse consumers into believing that that Dr. Martens is in some way affiliated with the allegedly infringing footwear.
In much the same language as used in the case that Dr. Martens filed against (and has since settled with) Steve Madden – despite counterarguments from Madden as to the validity of AirWair's registrations (Madden argued that the Dr. Martens trade dress consists of "generic elements of a functional item … commonly used by third parties," which "[have] not acquired distinctiveness, secondary meaning or served as a source identifier") – AirWair claims the copying at issue makes for an "exceptional case," and thus, additional monetary damages.
In addition to naming Yoox as a defendant (because YNAP likely has the deepest pockets of all potential defendants in this case), the complaint lists additional unnamed entities, which are presumably the individual brands that are actually manufacturing and selling the boots at issue to Yoox. It will be interesting to see if YNAP can escape at least some liability by way of indemnification from its third-party sellers.
It is not uncommon for a retailer, such as Yoox, to demand as part of its routine vendor contracts that a manufacturer/vendor – the individual boot-makers in this case – indemnify it (pay its legal costs, etc.) in circumstances in which the retailer has become subject to liability as a result of injury to a third party as a result of its product.
It is worth noting that the while courts have consistently concluded that there is no right to indemnification under the Lanham Act (the trademark, trade dress, and unfair competition statute), YNAP may be able to invoke such relief in connection with AirWair's non-Lanham Act claims.
Dr. Martens is seeking actual damages, or in the alternative, $1 million per counterfeit, and injunctive relief, which would immediately and permanently bar Yoox from selling the allegedly infringing footwear.
*The case is AirWair International Ltd. v. Yoox Net-A-Porter Group S.P.A., 3:18-cv-06047 (C.D.Cal).