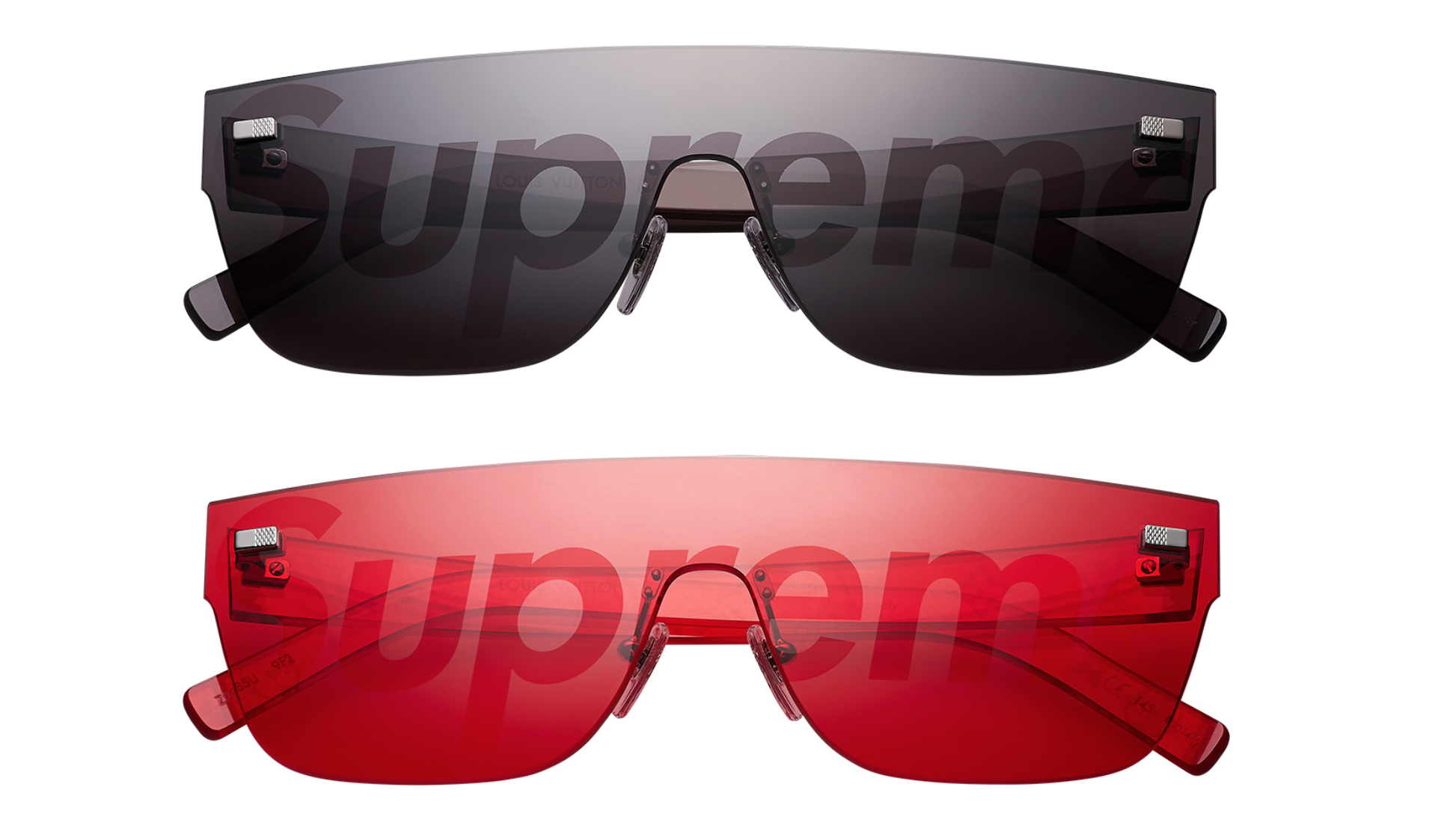 Certain – and oftentimes differing – sects of the web collided and subsequently went into a collective tailspin after parts of a rumored Louis Vuitton x Supreme collaboration leaked earlier this month. Well, January, Louis Vuitton confirmed the collab rumors – by way of its F/W 2017 menswear runway show, for one thing, and a pre-show interview between the house's menswear director, Kim Jones and WWD.
Under the creative watch of Jones – who took the helm of Louis Vuitton's men's division in 2011 – and with the cooperation of New York-based cult skatewear brand, Supreme and its founder James Jebbia, Louis Vuitton showed a lineup of F/W looks that incorporated Supreme's bold red and white box logo branding. "You can't have the conversation of New York men's wear without Supreme right now, because it's such a massive global phenomenon," according to Jones.
Red leather duffle bags (which are expected to retail for between €1500-3000) and fanny packs (styled over the shoulder, of course) bear the famous Supreme graphic. To be exact, there are six styles of bags in the collection, including a backpack, duffle bag, messenger bag and fanny pack. They come in three different materials: red Epi leather, black Epi leather and a camouflage fabric.
Also in the mix: Scarves and bandanas that make use of both brands' logos, and smaller leather accessories, such as LV x Supreme wallets and iPhone cases (these are said to retail around €300 and up), which were seen poking out of the pockets of denim Louis Vuitton monogram-printed shirts (something of a throwback to the denim bags that the brand showed during Marc Jacobs' tenure?).
Sure to be some of the most highly coveted items (aside from the more accessible goods, such as the key chains, pocket knives, pins, luggage tags, etc.)? The Louis Vuitton x Supreme steamer trunks and bespoke skateboards – which are bespoke and thus, not readily available for purchase, according to the brand.
The Making of a Master Collab
As for who came up with the idea for this master collaboration, one that arguably makes quite a bit of sense, given the widespread influence that high fashion brands take – especially as of late – from the street, it was actually Michael Burke, Louis Vuitton's chairman and chief executive officer. Not surprisingly, Kim Jones – a streetwear and skatewear afficiando – "didn't need much convincing," per WWD. Joining forces, he said, "was the logical response."
In fact, Jones has some personal history with the brand. "I used to work when I was at college unpacking boxes of Supreme at a company in London that distributed it when it was just starting out, so it's something I've known all along in my life."
Unlike prior Supreme collabs, this one will not be available at Supreme's brick-and-mortar stores or online. The limited, one-off collab will be sold exclusively through Louis Vuitton stores later this year. Jones said the line designed with Supreme would go on sale at select Vuitton stores on July 17, but would probably also be available in temporary locations. "We'll probably make separate stores in areas where both of them are popular," he said.
Undeniably, the collaboration is somewhat surprising given Louis Vuitton's highly protective approach when it comes to intellectual property ("IP"). As indicated by its many infringement-related lawsuits (and the notorious cease and desist letter that LV sent Supreme almost 20 year ago), Louis Vuitton very clearly does not take kindly to others – oftentimes even those within its own ranks (remember the alleged fight that former creative director Marc Jacobs had to wage in order to "deface" the brand's monogram canvas with Stephen Sprouse's neon graffiti) – interfering with its IP.
But Louis Vuitton – the world's most valuable luxury brand – is not your run of the mill design house and so, it follows that this would never be your average collaboration. Just as was the case with Louis Vuitton's previous collaborative projects, the Supreme one will be closely monitored, enabling the fashion house to benefit from the partnership while maintaining complete control over the variables. (The goods will be sold only through Louis Vuitton owned and operated stores, for instance). In this way, the collaboration is not all that surprising; it is certainly less surprising than if the roles were reversed and Supreme was making and selling products using the Louis Vuitton logo.
The question that still remains, though: Why? The reviews sure seem to make it seem like a bad move. The New York Times' Guy Trebly, for instance, wrote the following: "Nothing is more lethal to cred than a sellout. You may think, in the case of the Louis Vuitton collaboration with Supreme, presented under a tent at the Palais Royal on Thursday, the only victim would be Supreme, the street-style label with a rabid fan base and seemingly bulletproof cool … Both parties appeared to take a hit in the fall 2017 collection presented by the designer Kim Jones. It was the fashion version of a murder-suicide."
Well, chances are, Louis Vuitton wants to tap – for a season or so – into the wild dedication and rabid willingness to spend that is consistently displayed by Supreme fans. These are the individuals that line up outside of the brand's New York stores or wait with baited breath on its website once a week to "cop new shit." They are the ones who are not interested in – let alone swayed by – critical reception of the collection. They are the epitome of a cult audience.
In this way, the collab is an easy opportunity for Louis Vuitton to sell and judging by Supreme fans, any garments and accessories it shows will sell out regardless of their prices. (Does this suggest that Louis Vuitton's current bottom line is not as stunning as it would like? Maybe. It is a difficult climate for luxury brands, after all).
Moreover, the collaboration presents Louis Vuitton with an opportunity to up its cool factor, particularly among millennials – the demographic with which every brand is consistently hoping to find favor. With this in mind, it seems that Louis Vuitton has identified a potential goldmine in this potential collaboration if it is handled properly.
As for what Supreme gets out of this, the brand gets a hefty paycheck from Louis Vuitton (in exchange for allowing the company to use its trademarks) and some high fashion bragging rights, as well.
UPDATE (7/12/2017): The collab is no more. Louis Vuitton client services confirmed in an email to Hypebeast that the Supreme x Louis Vuitton collection "will no longer be sold in any stores or online." The Soho, New York drop scheduled for July 14th has been canceled, as have all other U.S. pop-up locations, according to a sales representative at Louis Vuitton's SoHo store.