Chanel decamped to New York's Shelter Island last month, propping up branded surfboards at Sunset Beach to promote its recently relaunched J12 watch, making it the latest high fashion brand to work surf culture into its repertoire. But beyond Chanel's double "C" adorned surfboards – which were being offered for sale early this year for nearly $10,000 – is an entire market devoted exclusively to outfitting bona fide surfers, as well as the many consumers who simply want to look the part.
For years, the "surfer-bubble," as Highsnobiety called it not too long ago, "was dominated by a few big labels, Australia's 'big three': Quiksilver, Billabong and Rip Curl, as well as Southern California brand Volcom," which parlayed their initial home-grown successes amongst small surfing communities into rapid global expansion, beginning – in some cases in the 1980s and 90s – and continuing well into the 2000's.
"In 1985 there was basically nothing you could do wrong," Julian Taylor, the owner of 20-year old Sydney-based Surfection clothing store told Australia's ABC about the wave of surfwear brands that were hitting the market at the time. "The clothing was becoming more and more popular. Surf clothing, all the accessories, everything was just blowing up basically and we were on a good ride."
The market's early surfwear brands succeeded by "establishing a visual identity that played up to the idea that looking like a surfer was inherently desirable, and it was," per Highsnobiety. With the help of big-name figures like Kelly Slater, the late Andy Irons, and Stussy founder-slash-surfer Shawn Stussy, and the increasing rise of the surfing lifestyle as an appealing commodity, the rise of the likes of Quiksilver, Billabong, Rip Curl, and Volcom was swift – and it was global.
As the popularity of the surf lifestyle, even for those who did not own a board – or maybe even, especially for those who didn't own a board, as a 2006 market report revealed that only about half of those purchasing surfwear are thought to be participants in board sports, while the other half are buying into the image and lifestyle that the brands represent – spanned continents, it translated to sizable revenues for the market's giants.
In 2003, for instance, Huntington Beach, California-based Quiksilver, Inc. saw $1.7 billion in sales for the printed-shirts and sweatshirts, board shorts, and beach-centric footwear offered by its small roster of surf brands. Fellow Aussie brand Billabong – which listed on the Australian Securities Exchange in 2000, quickly selling at a rate of 36 percent higher than its initial stock price – cited revenue growth of a whopping 76 percent tin 2001. By 2003, it was bringing in an annual revenue of $622.9 million.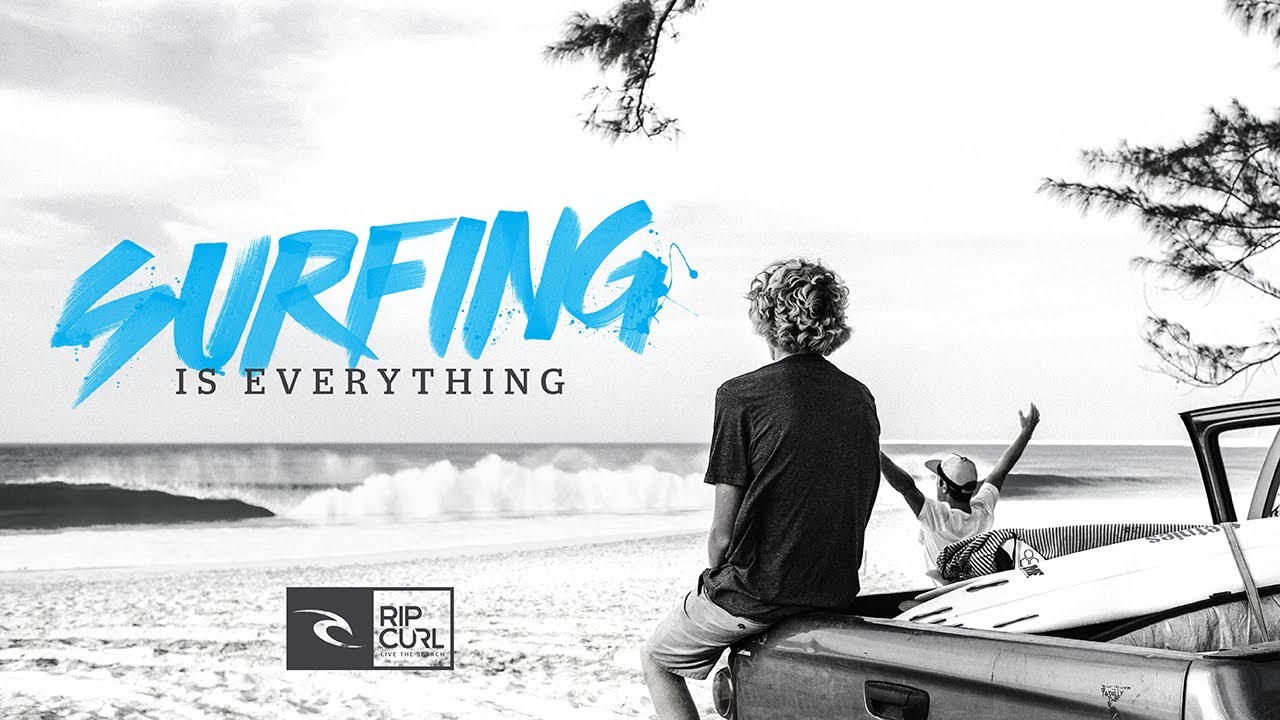 image: Rip Curl
Meanwhile, Rip Curl was similarly helping to bring surfwear to mainstream audiences on an international level in the midst of what would become a period of substantial growth and acquisition activities for the "big three," as well as the surfwear industry as a whole.
Two years later, in 2005, the American frontrunner, Costa Mesa, California-based Volcom, listed on the NASDAQ, pricing 4.69 million shares at $19 a share, and ultimately bringing in $89 million after "the stock exploded and changed hands at $27.35 in the open market, as buyers lined up for the well-known brand among the skate-and-surf crowd," MarketWatch stated at the time.
Surfwear – which was estimated to be a $13 billion market by 2006 – was officially on the mainstage, positioning the "big three" and Volcom, as well as other, smaller companies, such as Hurley, RVCA, O'Neill, Roxy, and Rusty, as major players in the market, and finding fans amongst beach-goers and city dwellers, alike, and achieving record highs in their stock prices and annual revenues.
The boom in desirability of surfwear propelled the likes of Billabong and Quiksilver into the "billion-dollar kings of surf," as Bloomberg put it. So much so that even the fashion industry could not help but take notice, and in the case of Kering, take action. In May 2011, the French luxury goods group, which owns Gucci, Balenciaga, Saint Laurent, and Alexander McQueen, among other brands, proposed a "friendly takeover offer" to buy Volcom Inc. for $24.50 per share, valuing the company at $608 million, a deal that was unanimously approved by Kering's board.
But then, the surf craze began to fade, and with it, the mass-market surf companies, which started to inch out of relevance.
"Surfers themselves have gradually deserted the fashion offerings of Quiksilver, Billabong and Rip Curl," The Guardian's Russell Jackson wrote in November 2013. "Non-surfing consumers now have less incentive than ever to adopt the traditional surf aesthetic still on offer." The laid-back – even counter-culture – element of the surfwear movement had been lost, and with it's the covetable cultural currency it had once embodied. "The 'made by surfers for surfers' mantra of the industry's early days [was similarly] a distant memory [for] the major brands," Jackson stated.
The results could be seen on the bottom lines of the companies that were once the top dogs. Just over a decade after Billabong's successful initial public offering, it reported an annual net loss of nearly $300 million. "By 2013, the company announced an even bigger loss of $860 million, according to ABC, and "despite a modest profit in 2015, Billabong returned to the red [in 2016] with a $23.7 million loss."
Fast forward to late 2017 and the company revealed by way of a filing with the Australian Stock Exchange that it had received a non-binding offer from Quiksilver-owner Boardriders to acquire all of the company's shares for $0.76 each, a deal it would ultimately take.
Meanwhile, the other major giant, Quiksilver was in the midst of an improvement effort. "Quiksilver has sought to revamp its business under Chief Executive Andy Mooney's leadership, selling brands and cutting costs as part of a 'multi-year profit improvement plan' announced in May 2013," the Wall Street Journal reported in late 2014 in connection with "narrowed" losses – to $51.6 million for the quarter – for the brand. As for revenues, they dropped, too, by 16 percent to $400.7 million.
Its improvement would not last, however, as in September 2015 Billabong filed for bankruptcy in the U.S., a move that would see it transferr control to U.S. private equity firm Oaktree Capital Management, its largest debtholder, and ultimately, being offloaded to Boardriders for $315 million in early 2018.
image: Quiksilver
But not all has been lost. Volcom has been heralded as a success story. In light of a revived luxury focus, Kering sold off Volcom to Authentic Brands Group in April 2019 for an undisclosed sum. Speaking about the sale, Volcom CEO Todd Hymel, cited the brand's ability to "remain true to its core pillars of skate, surf and snow, with music and art tossed in as well," as the key reason for why "the brand has been consistently gaining traction with broader audiences around the world" while some of its closest rivals have struggled.
"Volcom remains one of the world's most sought-after lifestyle brands by board sports enthusiasts," Authentic Brands Group, president and CMO, Nick Woodhouse asserted when the deal was finalized this spring.
Even on the heels of the Volcom acquisition, the shakeups in the surfwear arena have not come to a halt. Reuters reported just last month that Nike "is exploring options for its Hurley International," the surfwear brand it acquired in 2002, "including its possible divestment." Reuters noted that "Nike's potential retrenchment from the surfwear market is emblematic of the stance of most major consumer companies towards the sector, [as] surf brands have lost their appeal among non-surfing consumers, who now prefer boutique brands and retro streetwear."
While millennials once longed to embody the beach lifestyle, they have since traded the sand for the city, in a widespread adoption of streetwear, even if enduringly cool brands like Stussy and Vans do often make reference to their surfing roots.
As for the fashion industry, the media has been predicting a return to grace for surfwear over the past several years, particularly since surf-centric design staples have been popping up on runways across the major fashion capitals – whether it be wetsuit-esque garments, which have found a home in the utterly influential collections of Off-White and Fenty x Puma, for instance, or branded surfboards, such as the ones that Chanel has been showing off, or Saint Laurent before that.
Whether surfwear will make a return to large-scale fashion popularity is certainly not out of the question. However, given the mainstream adoption that has come with the global expansion, IPOs, and acquisitions tied to some of the surfwear industry's biggest names, it almost certainly will not look (or feel) the same as it did when surfing maintained a counterculture allure. Certainly $10,000 Chanel-branded surfboards are the antithesis of that.