Nike has retained its top spot on a list of the world's most valuable apparel brands, Brand Finance revealed in connection with the release of its annual brand review. Benefitting from significant growth this year, Nike's brand value increased by 9 percent to $33.2 billion, per Brand Finance, putting the Beaverton, Oregon-based sportwear titan in the number 1 spot for the eighth year in a row, followed by Louis Vuitton, which nabbed the second-place spot from Gucci, which fell from the number 2 spot on last year's list to occupy third place for 2022. Chanel, adidas, Hermès, Zara, H&M, Cartier, and Uniqlo round out the rest of the top 10.
Breaking down the methodology for its "apparel" ranking, Brand Finance examines the 5,000 "biggest brands" across segments, such as "luxury, sportswear, fast fashion, watches, accessories and jewelry, high street designer, underwear, and footwear," and ranks companies by "brand value." The London-based consultancy defines its central metric as "the value of the "names, terms, signs, symbols, logos, and designs" that a company uses to identify and distinguish its "goods, services or entities" from those of others, thereby creating "distinctive images and associations in the minds of stakeholders, and generating economic benefits" for the company as a result."
While "changing consumer and industry pressures" are impacting the appearance of the apparel industry, including by causing a contraction in value of most fast fashion brands (Chinese fast fashion titan Shein is not included on the list), Brand Finance found that sportswear brands and luxury names have fared well in the wake of the COVID-19 pandemic, seeing their respective aggregate brand value grow by 10 percent this year (from $68 billion to $74 billion) for sportswear and 21 percent this year (from $103 billion to $125 billion) for luxury names.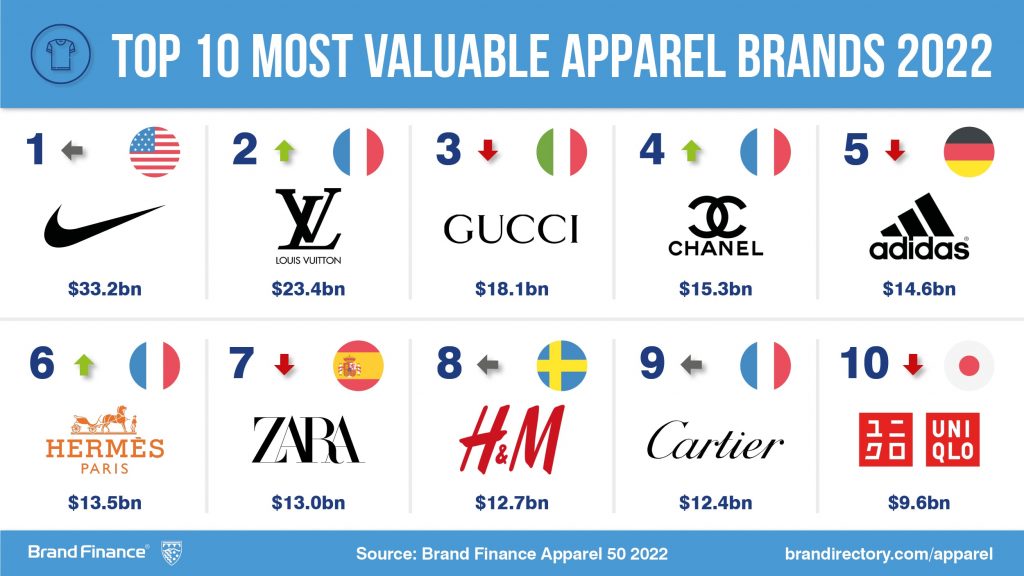 At the same time, the value of brands in the fast fashion segment dropped by 7 percent (from $44 billion to $41 billion), driven down by an array of factors, including "the fundamental disruption of their brand model." Specifically, Brand Finance notes that the "difficulty of selling low-margin products online is further exacerbated by the additional logistics and delivery costs," which has "caused the drop in value of brands in the fast fashion sector of the apparel industry."
Looking to the luxury segment, Brand Finance states that brands like Louis Vuitton (brand value up 58 percent to $23.4 billion), Gucci (brand value up 16 percent to $18.1 billion) and Armani (brand value up 9 percent to $3.3 billion) "surged in terms of brand value" over the past year. Additionally, the consultancy states that new entrants into the top 50 apparel ranking are dominated by luxury brands: BOSS (brand value up 54 percent to $1.7 billion), Bottega Veneta (brand value up 25 percent to $1.7 billion), and luxury jewelry brand Van Cleef & Arpels (brand value up 37 percent to $1.7 billion, as well).
In the sportswear and athleisure realm, the brand valuation firm asserts that over the course of the pandemic, brands have seen a steady growth in brand value as consumers spent more time at home as consumers selected brands for comfort rather than style. As a result of increased consumer demand for sportswear, Nike saw its brand value increase, followed by Adidas (brand value up 2 percent to $14.6 billion), Puma (brand value up 13 percent to $4.5 billion), and Lululemon (brand value up 28 percent to $4.2 billion).
Brand Finance notes that smaller sportswear brands are amongst the fastest growing brands in the ranking with Skechers seeing its brand value increase by 68 percent to $3.2 billion, and more interestingly, budding Chinese brand Li-Ning increasing its brand value by 68 percent to $2 billion, as it continues to seek market share outside of its native China. (Li-Ning is joined by a number of other China-founded companies on this year's Top 50 list, including sportswear company ANTA, jewelry companies Chow Tai Fook and Lao Feng Xiang, and outerwear-maker Bosideng, bringing China's brand value to 15.3 billion, which is 5 percent of the total of the 2022 ranking.)
In addition to Skechers and Li-Ning, Louis Vuitton was among the brands that exhibited the greatest growth in brand value on a year-over-year basis, followed by BOSS, Van Cleef & Arpels, Tag Heuer, FILA, Saint Laurent, Moncler, and Celine.
Beyond ranking companies in accordance with the most valuable brands metric, Brand Finance also judges companies by their "Brand Strength," which takes into account a company's "marketing investment, customer familiarity, staff satisfaction, and corporate reputation." There were some changes on this list compared to last year, with Dior taking the top spot from Rolex, which landed in the number 4 spot this year. Dior "performed exceedingly well in 2022," per Brand Finance, "going from the 12th rank in 2021 to the top of the table," as the brand "continued to host socially distanced fashion shows and events to launch new collections," "engaged in a number of digital campaigns to engage with customers online," and "most importantly, leveraged the online medium to a great capacity with influencer marketing campaigns."
Louis Vuitton took the number 2 spot on the "Strongest Brands" list, followed by Gucci (3), Rolex (4), Nike (5), Saint Laurent (6), Skechers (7), Moncler (8), Li-Ning (9), and adidas (10). Hermès dropped out of the top ten after nabbing a number 5 spot last year.
Overall, Brand Finance found that many of the brands on its ranking, including luxury brands, in particular, are readily bouncing back into growth after losing significant value over the previous two years. "Consumer sentiment is strengthening with a higher spending on clothing as people have been unable to spend on luxurious vacations." It is unclear whether that trend will continue in light of enduring economic uncertainty and geopolitical crisis.